Social Media Marketing Agency
Providing a firm social media roadmap, our social marketing and management team focuses deeply on social listening and real-time engagement monitoring services. Our  Agency develop engaging strategies to cope up with your rivals with our Social Media Marketing and management Services in cost effective packages without going beyond your company's marketing budget.
We generate leads and sales for businesses through social media
We achieve your business goals and objectives through smart social media audience targeting. Perks of hiring social media marketing and management agency for your business company are very high. Every social platform has its personality. If you do not treat it like the way it likes to be treated, you are going to get nothing out of it. The algorithms change every week, and you need to be on top of it to get any gain whatsoever.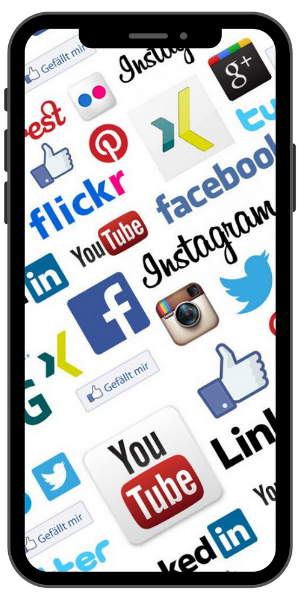 Brand Awareness
Your company name needs 'exposure'. Social media followers are the most effective and cost-effective way of getting your brand name in front of a substantial relevant audience. These followers, in turn, become your loyal customers and 'word of mouth' marketers.
Relationship Development
People buy your service/product, not because they like it. Research tells us that people convert because they want 'you' and your 'brand ideology.' Once their vision syncs with your brand's image, you can sell them anything. Social media management helps your company build better relationships.
All this is achieved through smart relationship building and social engagement. Bringing your potential customers to this stage is an art. We use social media to engage with your target audience and share your vision and brand story to build long-lasting relationships.
Exponential Website Traffic
Any social media marketing is a waste if it is not bringing you money or positive ROI. All marketing efforts on social media should direct potential customers to the website. Increasing your website traffic will directly influence leads and sales. We consider social media, a critical part of your monthly web traffic.
Dedicated Account Management
You will be assigned a dedicated social media manager to develop your strategy and execute it. This person will learn your business and be your primary contact. You will be able to communicate with your social media manager daily via email or schedule a call at a time that is convenient for both of us.
Custom Social Media Strategy
We believe every business is different and demands exclusivity in its social media strategy. We will work closely together to develop a results-oriented plan for your social media. Our approach provides clarity, focus, and inspiration to our clients. Our Social Media management Packages are highly customizable according to your needs.
Content Calendar
A social media calendar provides a framework for sharing content over social media. The marketing content resonates with your audience and educates them about your services and products. We don't just randomly post on social media platforms. Before creating your calendar, we plan content around specific campaigns and goals. First, we determine the types of content that make sense for your business and audience. Next comes a planned day-to-day execution.
Analytics and Reporting
Publishing content is essential. But it's also necessary to know how well your content performs and if your social media strategy is working. We work with the clients on timely weekly and monthly reporting.
Facebook
Instagram
Twitter
LinkedIn
Pinterest
YouTube
Tik Tok
Facebook
According to 2019 data, that there are over 80 million active Facebook business pages, and as many as 98% of B2C and 89% of B2Bs use Facebook ads to get website traffic, leads, and brand exposure. If you do not target your content smartly, on average, it is likely to reach only 8.1% of your total followers organically. After the recent changes in Facebook's organic reach algorithms, you need more followers and a higher level of engagement on Facebook, the 'customer acquisition giant.'
Instagram
Twitter
LinkedIn
Pinterest
YouTube
Tik Tok
Our social media marketing agency's priority is to help companies maximize their marketing ROI, accelerate customer growth, and gain a lasting competitive edge in their industries. We will be happy to discuss your future marketing goals.
Hire our expert social media marketing and management agency services without disturbing your current marketing campaigns.