What is SEO For Automotive Industry?
SEO for Automotive Industry, also referred to as automotive search engine optimization, is a digital marketing technique that combines on-page and off-page optimizations to maximize the search engine results pages (SERPs) ranking of the websites related to automobiles.
The automotive industry comprises of many business types such as:
Open an Auto Interior Shop

Lubrication Oil Retail Shop

Electric Vehicle Charging Station

Automobile Franchises

Car Wash Business

Trucking Business

Packers and Movers

Automobile Spraying & Branding Workshop

Sale of Motor Vehicle Insurance

Auto Locksmith Business
These are just a few. There are numerous more kinds of automotive businesses in this industry. These business types include services or products related to automobiles and vehicles. Each of them would have a website that is serving customers and potential customers on an everyday basis. SEO marketing is used in the automobile industry to bring more relevant traffic to the website for lead generation and sales.
A well-planned search engine marketing can improve your automotive website's traffic, web conversions, and sales. For example, SEO for car dealers has proven to be a consistent and long-term lead generation source. Autobody shops do SEO to bring more maintenance customers to their local body shop. SEO for auto dealers also includes targeting specific auto-related keywords that build an instant relationship between the searcher and the website.
See below an example of a search query that could be an auto repair or oil change shop hundreds and thousands of dollars every month.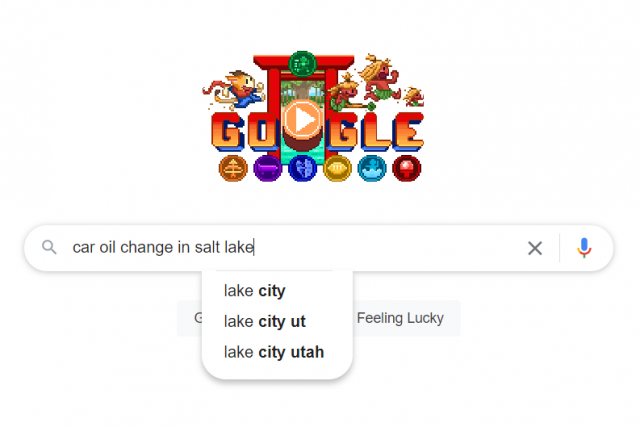 Reasons to use SEO for Automotive Industry.
To discover what they want, people don't have time to search through countless websites. Two, maybe three, will be stared at, and the others will be overlooked. 75 percent of the search engine clicks currently go through the first three outcomes. That's one explanation of why SEO is so important to car dealers. However, why else do you invest in SEO for Automotive Industry? A couple of explanations, including these four:
Car Dealer SEO gives you a competitive edge – Really?
Beating your automotive competition business on the search engine is like a battle in itself. Your website draws more traffic and earns more views as you rank higher than your rivals in search engine rankings. Higher web traffic contributes to more leads and increased sales. It means you're serious about attracting more buyers than your rivals. Curious about what traffic does your competition gets? We can send you a free marketing report. 
Car Dealer SEO provides more targeted leads.
If you only apply large keywords such as "car dealerships" to your site, you can barely break the top 100 of any search. However, if you also add keywords based on your location and stock, you continue to rank higher among locally searching individuals, contributing over time to more targeted traffic. These would be keywords like "Honda accords in [your city]," or "2011 white jeep patriot".
SEO for Automotive Industry gives you greater authority
People tend to have a more positive view of websites of high ranking. They see them as more trustworthy and respectable. When the location of your auto business is popular on Google Maps, and there is a lot of competition, it will take on greater authority, making it the go-to site for individuals looking for car dealers. You are seen as a pioneer in the field because you rate higher and have beneficial knowledge that customers will benefit from, which is another incentive for car dealers to use SEO for Automotive Industry.
Increases awareness of your Dealership
You may be the best car dealership in town, but you won't draw new buyers or close sales if nobody knows you exist. SEO from the car dealer helps ensure that the dealership shows online in front of a relevant audience. These SEO changes boost your market value and ensure that your dealership will be identified and approached by more customers. Not only can your dealership be top of mind when they need to buy a car when more customers are aware of your name, but the news of your dealership will also spread by word of mouth.
Digital Maxima offers SEO packages for the Automotive Industry, starting at $500 a month. Learn more about pricing plans.
Tips – SEO for Auto Dealers 
Automotive SEO, if you have never done it before, may seem like a big, complicated process. It begins that way, but over time, it gets easier, particularly if you work in a team that can guide you through the process. To get the most profit from the SEO approach of your car dealership, here are six tips you can use:
Best keywords

Quality content

Use Google My Business

Monitor SEO results

Optimize every element

Make SEO a regular task
Sell more cars with SEO for Automotive Industry. SEO for Car Dealers, SEO for Auto Dealers
At the top of search engine rankings, the most popular car dealers can be identified, but they don't appear there by chance. To ensure that their platforms, social media accounts, and blogs are optimized for the most targeted searches, they work very hard. If you are a car dealer and want to make your website a top-ranking website on GOOGLE, we are happy to help you.
Get a Free Marketing Proposal For Your Automotive Business.